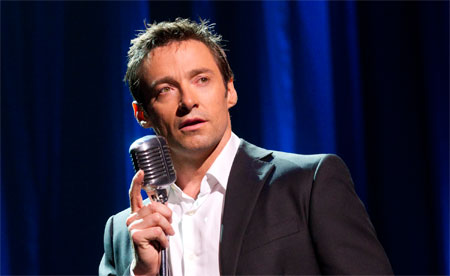 I saw
Hugh Jackman on stage
. And he was marvelous. Granted, it's not because of his Australian-accented singing voice (which, while full and deep, isn't very nuanced) but rather, the star stage presence. And because of how pleasant he looks standing there singing and shaking his pelvis.
The older lady who sat in the theatre box in front of me would also agree, mainly because in the opening of the second act, Hugh Jackman came to her box (dressed in a tight-fitting gold shirt and gold pants) and sat on her lap. "Ohh, you're warm," he gushed as she rubbed his arms. Then his hand.
Though I don't blame her, not many women (or gay men. And possibly straight men.) would give up the chance to touch Hugh Jackman.
I can't remember much of what he sang, I remember the opening from
Oklahoma!
and "Soliloquy" from
Carousel
, and his dance medley from the Tony's. And "Over the Rainbow." I'm sure it'll come back to me if I think harder about it, but I was mostly entranced by his overall stage presence and charisma.
And the tight pants.
And how high he kicks.
And how he pulled a white-haired gentleman from the audience, took off the man's jacket and tie, and made him dance with Hugh's back-up dancers.
Or how he noticed the woman in the front row fanning herself with her black-haired wig, and he incredulously asked, "Did you just take off your wig?" and then put her wig on his finely coiffed head and pranced around the stage with it. While the bass notes of the song "Fever" was playing in the background.
Oh forgot it. I'm just going to let
Michael Riedel
(sorta) describe the concert.
At 10:05 he began to let them touch him. They had been after his flesh a long while, but it is only now, after he is almost done, that he allowed them contact. His fingertips to theirs, he moved parallel to the footlights, first right to left, then back. And if he expected his flesh to quiet them, he was wrong: the din, already painful, somehow went up a notch, almost covering the noise from the pit, where the band was playing "Over the Rainbow."
And afterward I had a martini. Though I feel like I needed a cigarette as well.
He did the bit below at the show too. A bit of recycling but who cares?