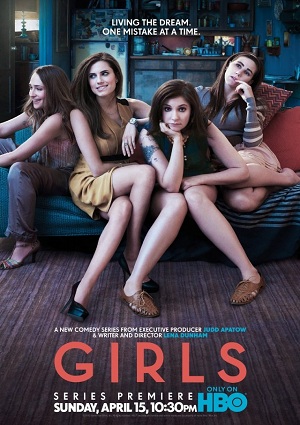 Wow, that's a totally non-PC headline. But that was my first reaction on seeing the "New York" magazine article about HBO's newest show "Girls," written by the very talented
Emily Nussbaum
. I thought, "The show should be called 'White Girls.'" Because that's the demographic that it seems to be catering to.
In case you don't have HBO, or have not been reading the arts section lately, "Girls" is about four 20something, white women living in New York City. It's like a grittier, more awkward "Sex and the City," set in Brooklyn. The pilot is available on
Youtube
, having only premiered this past Sunday. I somehow feel like it's been around forever, considering all that's been written about it. Including this blog post (hah!).
I'm assuming Lena Dunham, the creator of "Girls" and the main character, didn't grow up in a homogenized place (being a born New Yorker), and she didn't go to school in a homogenized university. So why couldn't one of her girlfriends in the show be a person of color? Recently, there was
a study
that said college students are less inclined to be racist. But you can't see it with the current crops of
"labia-saturated"
shows this season ("2 Broke Girls," "Whitney," "New Girl"). Instead, it's upholding the same tired homogeneity that we should have outgrown along with dial-up internet and smart-less phones. And I find the argument that "Girls" is meant to tell the story of a certain demographic, privileged white girls, absurd. Because privileged white girls is not an underserved demographic.
"Sex and the City," the mother of "Girls"
I'm not saying that I need to watch the immigrant story on my television (I grew up with that story and I don't need to watch it on television). And I'm not talking about the token minority who exists to serve as a mouthpiece for the rest of their race (that's way too much pressure to put on someone). Just a little color would be nice, to reflect the social circles that many people, especially those who live in a metropolitan area, have. Race doesn't even need to be addressed, it just needs to be
there
. A friend who happens to be ethnic. Not a friend who is there
because
they are ethnic.
In real life, people don't make friends based on race. No one is thinking, "I need to get an Asian friend" (though many guys do talk about getting an Asian girlfriend but that's another can of racist bullshit). Instead, skin color is like hair color, it's just a tiny detail in the grand scheme of a person. I guess I'm saying that privileged, narcissistic people come in all colors, not just white. And most people my age struggle with the same problems, whether its making rent, screwing the wrong men, or trying to go through the motions of adulthood and not knowing what those motions mean. And that's what makes "Girls" such a potentially wonderful creation, because it presents a viewpoint of an age group that is often idealized and sexualized. It shows us as struggling, flawed, repellent, hairy, petulant and rounded (both physically and character-wise). In short: human beings. "Girls" has the potential to be more than another privileged white girls story.
To quote Jenna Wortham, for "
The Hairpin"
:

Because these girls on Girls are like us, they are like me and they are like you, they are beautiful, they are ballsy, they are trying to figure it out. They have their entire lives ahead of them and I can't wait to see what happens next. I just wish I saw a little more of myself on screen, right alongside them.
So I guess what I'm saying is it's disappointing to see a person who is supposed to be my age (Dunham's 25, I'm 24), having been heralded as the mouthpiece for the millennial generation by a number of television critics, with every opportunity to change the status quo, and instead choose to not be responsible with that mantle. Instead, it's the same old story just told through a grimier lens.
Though Dunham has said that she will
address the race issue
if "Girls" gets a second season. Seeing as renewal is likely I'll hold her to that.